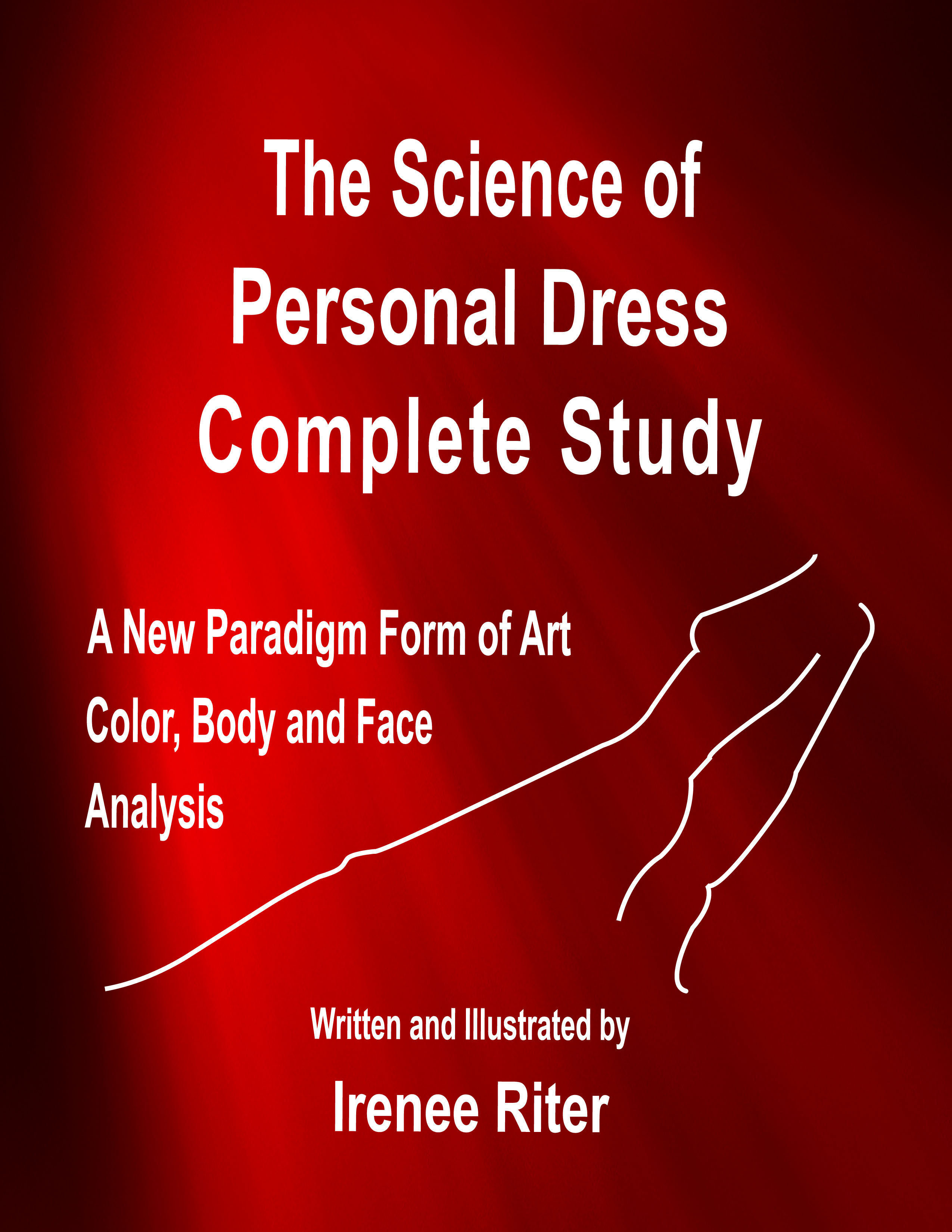 Advantages of The Science of Personal Dress COMPLETE STUDY Sixth Edition -

The "ART FORM OF DRESS" Joins The Lexicon Of The Seven Forms Of Art
As The Eigth Form Of Art Based On the Universal Language of Color, Line and Form

313 pages of all updated information, considered the textbook manuel of this classic study.
5 Aspects of dress and 5 Elements of dress not commonly covered
All details covered including men and women questionairres
Color and light science
Psychological aspects of color
Color analogies
Symbols and sacred geometry
Flip-over phenomena (simultaneous contrast)
Deeper hair color discussion
Combination body types
Complete description of clothing lines
Illustrated study of face feature lines
Sketchbook wardrobe organizer
Extreme colors discussed
Indepth skin discussion
Designers Box of Tools:
Imagery
Modification
Detailed Lines
Men's section 50 pages
Shorter section than the Men and Boys book because principles
already covered in the part of the complete study do not have to be repeated
Updated eBook available here through PayPal $16.99
Advantages of WOMEN and GIRLS Book
168 pages
Bigger font (14 pts)
4 Aspects of dress
All significant salient information is covered
Not as detailed, more the cream off the top of the work
A faster study for those wanting to get to the point
Practical for easy application
A first study that can be followed by the Complete Study
eBook available here through PayPal $12.99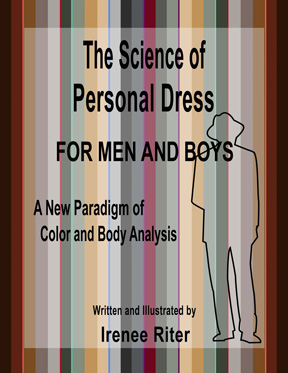 Advantages of the MEN and BOYS Book

THE ONLY BOOK OF ITS KIND ADDRESSING DRESS FOR MEN
104 pages
Bigger font
4 Aspects of dress
Right to the point covering easy to apply shortcuts
Detailed guidelines for men's wardrobe combinations
All illustrations drawn and adapted for men
Important wardrobe tips
Extremely beneficial for a male's focus in sales and marketing
eBook available here through PayPal $12.99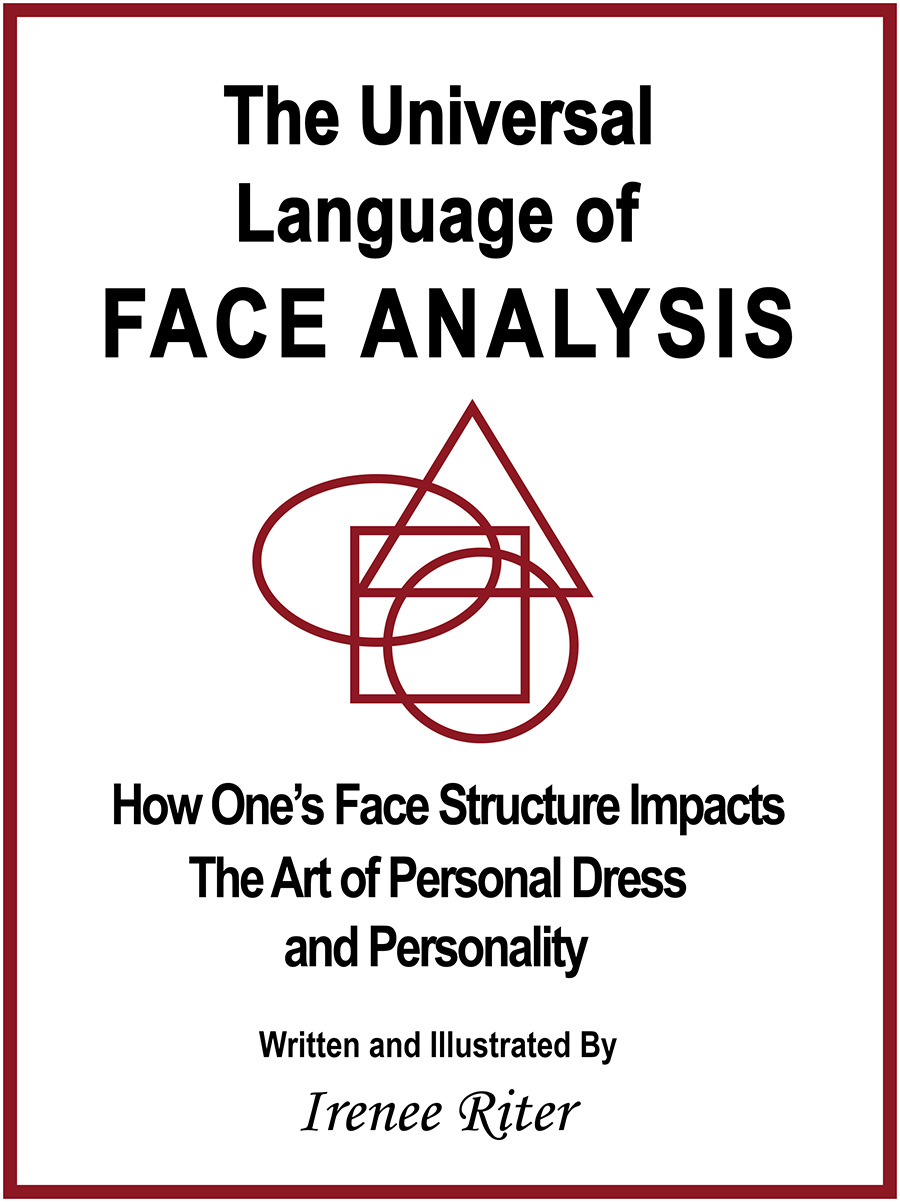 NEW Advantages of The Universal Language of FACE ANALYSIS ~ How One's Face Structure Impacts The Art of Personal Dress and Personality

A delightful read from start to finish! This book completes 3 forms of analysis - 1ST color, THEN dress and NOW face analysis which has been overlooked but plays an important roll for a finely-tuned analysis. A deeper understanding of what underlies form and color brings a greater syntax of language giving one cognition of the more refined nuances of the art of personal dress. This study is based on validated scientific research showing that the structure of something defines its automatic function. But there is more to all this than what first appears—not only does this apply to dress, but goes deeply into the expression of the personality itself. This book is unusual because for the first time it connects the basic language of line design and shows exactly what it expresses on all levels; physically, mentally, emotionally and through the personality as well. Examples are illustrated to help short-cut long descriptions so the reader can see easy associative connections. Finally, the history and background of structure analysis is presented, along with the position on the body of 90 illustrated traits, full descriptions of each trait, their universal meanings and what they communicate. This teaching is a powerful asset on every level, giving one the opportunity to ease into a flow of sensitive, non-judgmental positive communication, and a better understanding in relationships, in sales, friends and self-knowledge.
eBook available here through PayPal $14.99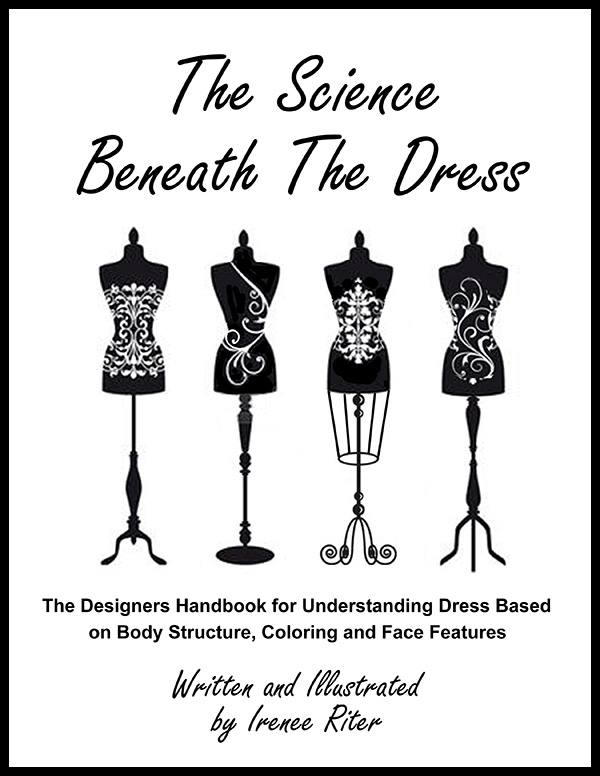 NEW and especially beautiful in print from Amazon. If you click on the printed book in Amazon and write a review I will send you any other eBook in return for your help in letting others know about our wonderful work. Just let me know...
ADVANTAGES of The Science Beneath The Dress ~ The Ultimate Designers Handbook
What designers need to know. Especially valuable for clothing manufacturers, architects, wardrobe sales consultants, beauticians, tailors, film, interior design, writers, artists, jewelers and creative design of every venue who personally value beauty in all its aspects.
Under the auspicious opportunity of teaching the required foundation color and line classes for The Academy of Art in San Francisco, Irenee's students were grounded in the basic principles of the Laws of Vibration and Attraction applied to all art endeavors translated into The Universal Language of Color and Line. A cursory outline is illustrated and given here for your benefit. Used as a starting point, but applied to all art, the whole language of body structure is now included in holistic color analysis involving color of skin, hair, eyes, shape and lines of the body, and even the size and positioning of face features.
This 144 page book is the condensed version of "The Science of Personal Dress Complete Study." It has been written and turned around in reverse engineer fashion to provide the quickest way to learn the universal language of fine dress. In a step-by-step tutorial, it includes 547 basic clothing illustrations aligned with each body shape and details connecting relevant data from the body up through every aspect of dress and style. 50 years research, experience and proven concepts of universal color and line principles, a Designers Summary List is presented showing the order and harmony of natural law through 1. Imagery, 2. Color Modifications, 3. Details of Lines, organized into orderly practical tools used for all creations.
Irenee states, "I didn't invent a color system, so much as discover an order to human colors and body lines which already exist, and then organized them into harmonics based on art principles exhibited by Nature. Just as sound exists within a certain range of human perception, so does color and line; just as music creates mood, has a theme and evokes emotion, so does color and line. I have orchestrated, if you will, colors and lines just as musical notes of the scale are organized so one can deliberately create with color and line."
TRUTH IN BEAUTY BEYOND THE DRESS
This study is presented, not only to show the order and harmony of dress, but to go beyond dress to understand and know how the teaching can be applied throughout all life in search of truth. Scientifically consistent with supreme natural order, this language is universal because it translates and expresses everywhere and in everything—it is ageless and timeless and is known and felt by all on some level.
eBook available here through PayPal $14.99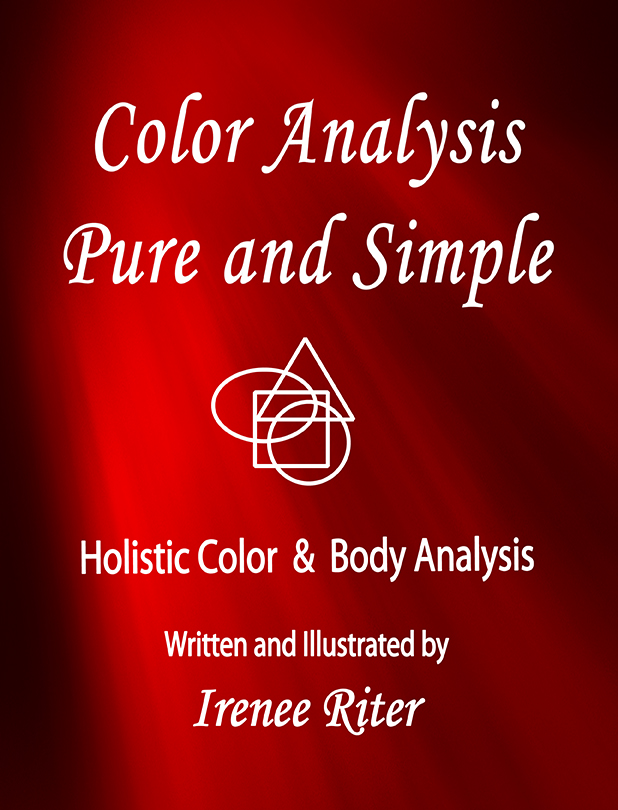 NEW Advantages of Color Analysis PURE and SIMPLE ~ Holistic Color & Body Analysis
Color analysis now includes the whole body. It is time to make available a concise overview of the art of dress designed for those wanting to know more about themselves. This 133 page book is a condensed version from the classic Science of Personal Dress Complete Study manual taught to students at the Academy of Art in San Francisco. The summary in this book is unique. It presents illustrated "shortcut" tools for quick understanding of this teaching which goes beyond the art of dress and applies to all creative endeavor. Shown here are how student's from the Academy used this knowledge to illustrate expertise of the language of color and line in their final exams. Thus underlining how to create and communicate with conscious, deliberate intent whatever subject, project, design, invention, or personal image one may choose to express.
Pure and Simple is a solid first step guaranteed to expand awareness and begin a remarkable journey seeing life through vibrational energy and law of attraction. This work goes far beyond the limited 4 season approach and teaches the literal Universal Language of Color and Line which applies to every thing, including every body. Also perfect for astute and creative teenagers. This book is not fashion! It is a thesis regarding what is appropriate, comfortable and natural for each body type. Thus, personal dress becomes an exacting science by simple formula. Based on universal principles of color and line, this study assures that good taste can be learned…absolutely!
eBook available here through PayPal $14.99


Advantages of IMPECCABLY SHARP Book (Includes Manners and Social Skills for Men and Boys)
This 130 page illustrated book reveals what wise men know and young men can learn. Important book for Grandmothers and mothers to give to their grandchildren, sons and daughters. At any age, this book details how to be Impeccably Sharp and become a master of attraction, charm and standout elegance. This book is a synopsis of wisdom gained from the lives and experiences of true gentlemen who discovered that developing a personal style is worth a grown man's time. Covers protocol of social exchange, manners, table etiquette, conversation skills, attractive dress, cleanliness, beauty and creative thought. The book covers 3 subjects, and is based on an extensive survey which sets the tone of what women really ideally prefer:
Women Prefer Attractive Men
Women Prefer Well Dressed Men
Women Prefer Gentlemen
eBook available here through PayPal $12.99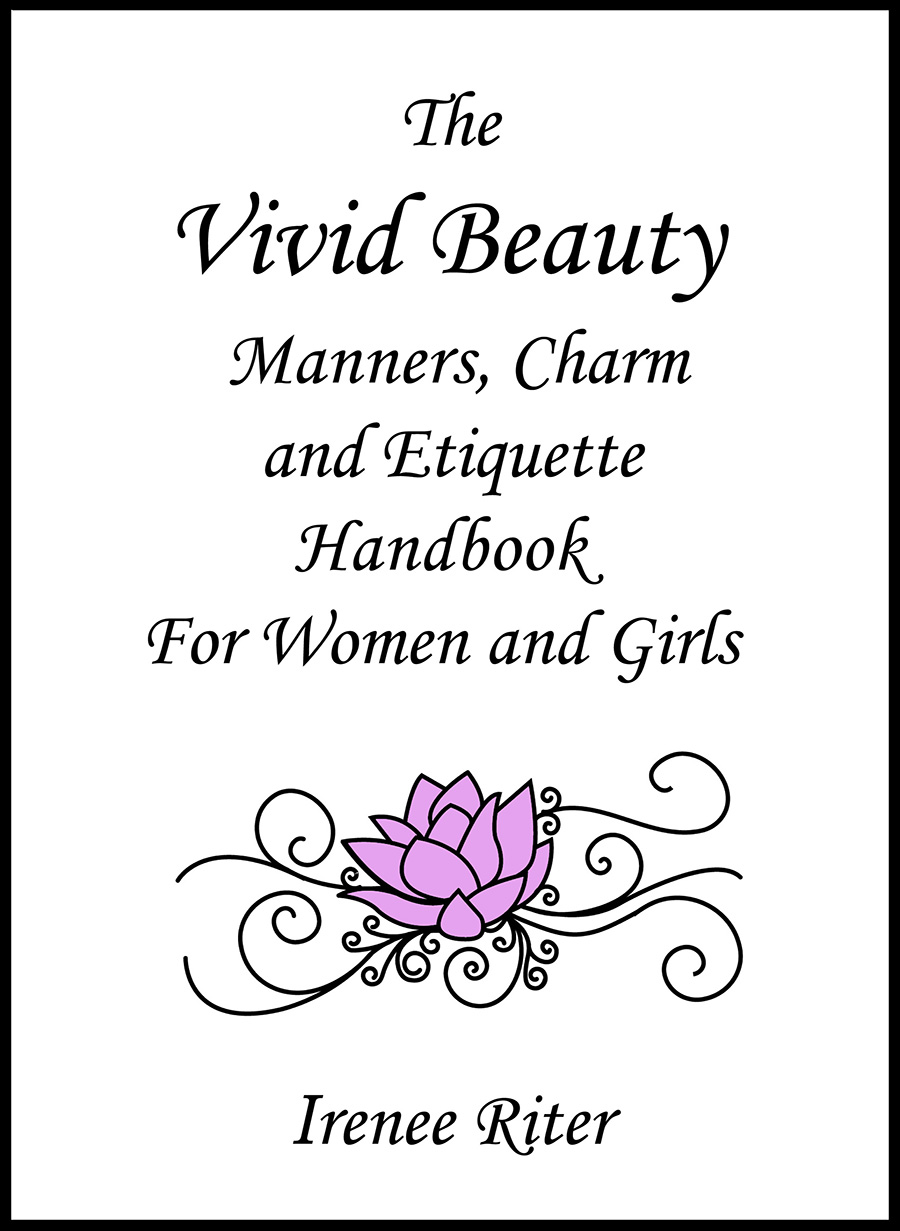 Vivid Beauty Manners, Charm and Etiquette Handbook For Women and Girls ~ Beautiful Original Complete 8.5x11 Version.
Irenee Riter is a Certified Graduate of The American School of Protocol in Atlanta Georgia taught by founder Peggy Newfield. Just to have a timeless handbook of cultural protocol is reaffirming to be aware and have as a reference guide (a companion book to "Impeccably Sharp" for men and boys.) This 30-page handbook begins with charming manners and then follows up with ways to show charm and etiquette through social exchange: charming conversations, charming suggestions, charming introductions, cultivated habits of self care, manners that show your charm, manners that shout your charm, etiquette that reveals your charm; table etiquette before, during and after dining. With a personal image instilled that the body is a unique expression never before created, these ideas blossom into a drive to enhance it, mine it, refine it, upgrade it, polish it and to package it an extraordinarily beautiful woman...a Vivid Beauty. This is the perfect gift from mothers to daughters and from grandmothers to granddaughters.
eBook available here through PayPal $12.99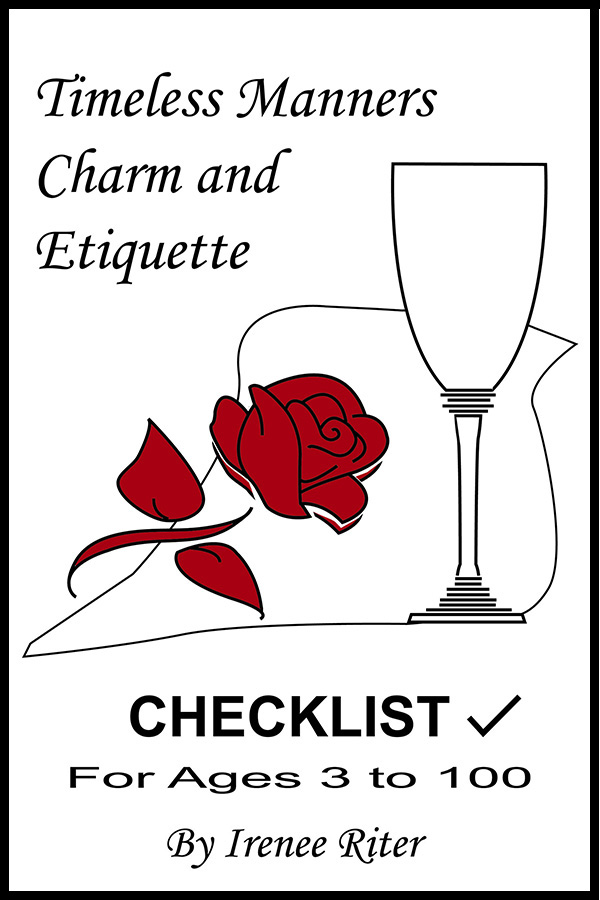 NEW Timeless Manners, Charm and Etiquette CHECKLIST for Ages 3 to 100
This book is wonderful in hand. The best book of its kind for everyone, especially for parents and grandparents as a guide to play with and enthrall young people with facts and points of interesting etiquette and manners which charm the heart and ennoble the Soul. Complete checklist brings to conscious awareness attributes of character, poise and beauty. Based on teachings of The American School of Protocol, along with comprehensive study of traditional rules of convention which address the mind, body and spirit. Makes a strong case for the advantage of at least knowing the difference, and of how culture and polish adds to enrich all our loving relationships.
eBook available here through PayPal $12.99
Advantages of FACE READING Book
An important intriguing aspect of color and line education pertains to the shape and structure of one's face. Based on the function of archetype lines and shapes, a facecommunicates and is wired to automatically react to stimuli. These structural traits are so common that reference to them is used in our everyday language. Terms such as "a nose for news," "high-brow," "thin-skinned," "level-headed" and an "ear for music" are valid actual traits that can be easily observed on people. This knowledge therein facilitates greater non-judgment appreciation for self and others. The book gives a history of the background of the study of personalities. 90 traits, fully illustrated showing the positioning on the face and body with detailed descriptions of each trait.
eBook available here through PayPal $12.99
(The PayPal system is not automatic. When I receive notice of your payment from PayPal, you will be sent your pdf copy of the eBook selected. Do not be concerned by small lapse of time; be assured my email is checked every few hours. You will receive your books. If you get concerned please call Irenee at 925-351-3316. Thank you)
PERSONAL COLOR TESTER $75 which includes Custom Straps plus Personal Profile Booklet
(Discounted to $60 with the Complete Set of Materials and Training Tools)
-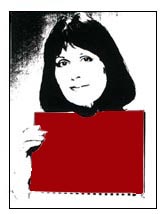 Here is the opportunity to see and compare your best colors for yourself! This state-of-the-art simple durable tester is the ultimate color analysis tester.
SEE PRODUCT TOOLS AND MATERIALS

COMPLETE DO-IT-YOURSELF COLOR ANALAYSIS TOOLS AND MATERIALS PACKAGE
INCLUDES:
Color-Tester
Keysize Tester
4 Pocket size Personal Profile Books
8 Inter-season Color and Line Booklets for Women and Men
Harmonic Hair and Eye Color Chart
Harmonic Color Display Chart
PowerPoint Presenation for Women and Men

To Order email: [email protected] or Phone 925-351-3315
SEE PRODUCT TOOLS AND MATERIALS
REVIEWS:
"This work has brought me the information I have longed for, and now I have the tools to consciously know what and why and how to put myself together." — KR Germany
"Dear Irenee, I printed out 10 pages and took them to bed last night. Already I am blown away by the effort you have put into this book. You have skillfully presented all the important theories and concepts of color and line in a well written and illustrated book… something I've always wanted to do but did not have the time….or frankly the writing skills as you have." — Donna Cognac, AICI, CIP
"Wish I had known this before. Years ago I had my colors done and it never felt quite right. Some things just didn't add up, but now that I understand my Interseason influences it all makes sense. The Science of Personal Dress is classically sound and gives the real answers...the whys and how's." — MR California
"Your work is sacred, Irenee...it is so much more respectful and non-violent to the body to find clothes that fit the body shape rather than try to shape the body via diets, surgeries, over exercising to fit the clothes ...........I am a licensed MFT (Marriage and Family Therapist.) I practice psychotherapy and I can say by my experience how important the inner and outer aspects of who we are (of which I don't hold as separate) to be both vitally important."
— Jeanette McCarthy San Francisco
"Thanks for sending me the files; when you changed the original site it frightened me because it's a kind of a Bible for me." — Anna Nureeva from Rouen France
"As an image consultant, through the teaching of these principles, with each client I not only understand what and how...but why. I thrill seeing how each person is like a mystery to be unraveled. Clients are amazed to see parts of themselves they never paid attention to, or even viewed as flaws, to be a unique and interesting part of their human design. They become their own expert, and the consultation pays for itself with their first purchase and continues for the rest of life. I highly recommend this proven work which outlines the whole body and color analysis process." Darren Chappell Image Consultant, San Francisco
"I am fascinated by the wealth and the depth of your knowledge. Thank you so much for making it available to the public. I have attended various color analysis courses, and none of them comes close to what you have to offer. The concept resonates with me and it just makes sense." — Anna Louise Villariel, Oslo Norway
Research Continues...
There are many programs and expert sensitive colorists that work very closely to give a person colors that harmonize with their coloring. Here are the differences.
The Science of Personal Dress is based on The Law of Attraction which uses a specifically designed Color Tester that absolutely proves which Season Homebase is correct and from that basic platform Inter-season extended colors are determined. The client not only learns what they are, but which Inter-season colors influence and expand their range of colors all based on their physical traits (blushing, thickness of skin, hair texture, placement of face features)
Also, there are 30 hair color testers to determine best color choices for hair-coloring. Very much like trying on 30 wig colors, just under the face rather on top of the head.
Outdated various testing methods........................................ One Simple Personal Color Tester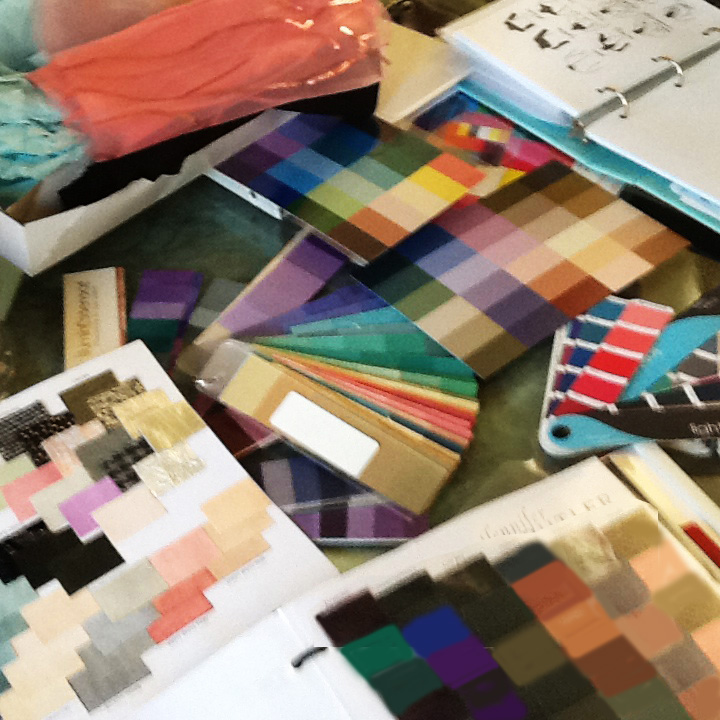 Testimony
Kathleen Boyd, Saratoga, California
My 36-year odyssey to discover my most flattering personal colors and wardrobe design finally reached its wonderful destination when I met the remarkable Irenee Riter.
Prior to discovering Irenee, unsatisfying results from many personal color consultants I worked with had kept me searching for what seemed to be elusive—a convincing personal color harmony experience. I had amassed 15 different color palettes that sometimes varied dramatically, even with the most basic selections of hair, skin and eye colors. Wearing many of the colors did not feel complementary or harmonious, nor did I feel more confident or radiant.
I was considering the time and resources I had expended over the years in my search. I had felt momentary enthusiasm after many consultations, but for various reasons enthusiasm proved fleeting because the results were inconsistent or disappointing. I questioned myself, trying to articulate the vague feeling that something was missing or being missed. I mentioned my frustration to my son one afternoon. He then casually asked; "What is the science behind this?"
Stunned by the simplicity of his comment, a new light sparkled in my mind. No one had truly been able to demonstrate or explain the basis for the colors they selected and said were in harmony with me. My path took a turn and I began searching for the science that explains why we look better in some colors and not others. I found my answer with Irenee Riter and her book; "The Science of Personal Dress."
Considering myself a veteran color analysis client with a lot of experience of my own, I was immediately compelled to work with Irenee after studying her color material and the science of body shapes and line. Her approach is insightful, thorough, practical and usable. It is a testament to elegant simplicity. After I explained to her my long search for color and wardrobe answers, Irenee graciously agreed to personally work with me. I was elated!
My consultation with her was a revelation. During our 3 hours together we went over much of the material in her book and I learned the precepts of personal color harmony. Irenee did a color analysis with her color tester and I learned my "Home Base Season" and which colors from other Seasons are also flattering. I learned about "balanced colors" which is a vital piece of information I had not encountered working with anyone else. We discussed hair, makeup and clothing lines. In short, Irenee guided me to better understand and express myself through my wardrobe by using her "universal language" of color and style.
Irenee's positive perspective on life and continual affirmation of our individual uniqueness and beauty stimulated me to rally after having previously felt confused in my quest. I finally discovered answers and my colors, thus, my odyssey has ended, and in the most beautiful way. However, it is Irenee's sincerity that is perhaps the loveliest gift I received from being with her. Thank you so much, Irenee, for sharing your sincere love and guidance.