PERSONAL COLOR TESTER


Registered ® 2000 By Irenee Riter All rights Reserved
Price $65 - (Includes $20 Professional Straps plus Personal Color Profile Booklet)
Color Tester is Discounted with Complete Set of Materials and Tools

DESCRIPTION
This sturdy, durable tester is the ultimate color analysis tester. It is 8 1/2" x 11" with a cut out for the neck and leather straps to secure the tester around the neck. The 60 color testers are arranged in harmonic sequence and include 20 half-page testers to determine contrast and show how to combine warm and cool colors in clothing. Each page is specifically designed with color coated ink dyes to illustrate the basic six colors of each color family. The first thirty testers also double for makeup and eye colors and the last thirty colors represent hair color neutrals. The pages are thick enough to arrange and display color combinations which actually represent exact percentages of warm, cool and balanced colors needed. Most importantly, the tester has detailed instructions on how to attain the ultimate fine-tuned color analysis. Included is the pocket-size Personal Profile Book 56-page Personal Profile Book which is helpful as you test through the colors and it has all the color ovals in full color with clothing illustrations for both women and men as shown below.
Includes 60 full page testers.



Also includes 20
half-page testers.




WHY THIS TESTER PROVES BEST COLORS
These color testers have been designed to flip down so that your eye has the chance to see the differences through quick comparisons. Trying on clothes is such a slow process that the eye can't "remember" the difference between color effects. The advantage of the color-tester over cloth drapes is that you have a full range of exaggerated colors which can be tested in rapid succession giving you the basis for valid comparison.
| | |
| --- | --- |
| | The pages fall down one by one and can also be displayed together to determine Inter-season percentages. You can determine, for example, if the person needs dark (Winter), light (Summer) and a touch of bright (Spring) to complete their "frame." This would mean that the person has a Homebase of Winter, with Summer and Spring Inter-season influences as well. |
56-PAGE PERSONAL COLOR PROFILE BOOK set of 4 for $10
This booklet is an overview so that the client can see how their best color range compares with the other colors in each color family. For both women and men, this is an advanced approach and shows the client a possible range of good color rather than so many individual colors defined. We learn best through contrast, comparing one with another. This array of harmonic colors is very helpful...people can actually see the difference between colors for themselves. The dimensions are 4 1/4" by 5 1/2"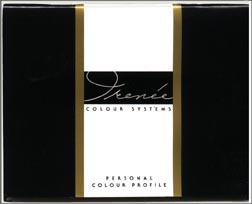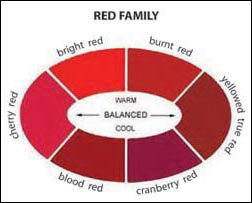 All 10 color families are included in the booklet. Your best color is marked and then it is easy to see what range of color is best—and more important, which colors are not good. Learning by contrast teaches one to differentiate distinctions between colors. Provides visual reference as you are testing.






Table Of Contents
Introduction
10 Oval Color Families
Personal Oval Profile Chart
Season Feeling Impressions
Lines and Shapes
Body Structure
Face Feature Lines
Season Characteristics
Hair Color
Makeup Color
Lip and Cheek Color
Eye Shadow Color
Nail Polish Color
Hosiery Color
Shoe Color
Patterns
Textures



Jackets and Blouses
Pants and Skirts
Accessories
Shoe Lines
Jewelry
Hairstyles
Men's Hairstyles
Men's Patterns
Men's Jackets and Shirts
Men's Pants
Men's Shoes
Men's Accessories
Spring Inter-season Colors
Autumn Inter-season Colors
Summer Inter-season Colors
Winter Inter-season Colors
Important Wardrobe Tips

Example of pages...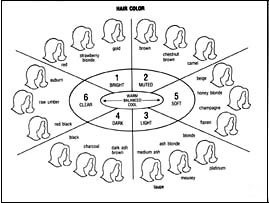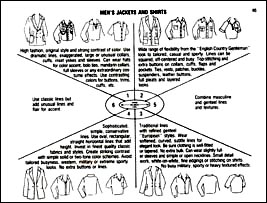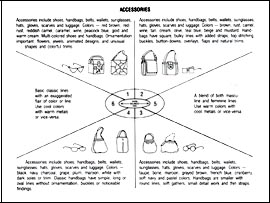 Price INTER-SEASON COLOR BOOKLETS

Set of 4 Inter-Seasons for Women $9
Set of 4 Inter-Seasons for Men $9 -
One approach to show best colors is to completely illustrate the colors and spell out the Inter-season combinations, showing a variety of colors so that the client doesn't tend to limit their choices. Each person receives a booklet depicting their Homebase Season colors and all 3 Inter-season color groups. There are eight books, 4 for women (Winter, Summer, Autumn, Spring) and 4 for men. The booklet includesillustrations which show a comparison of lines for each season.
Many astute colorists give both books; the 56-page Profile Book which shows comparisons, along with this Inter-season booklet in the person's Homebase which illustrates their colors and shows how to adjust the effects of their neighboring colors. Especially helpful for men. A few page examples follow here:

Women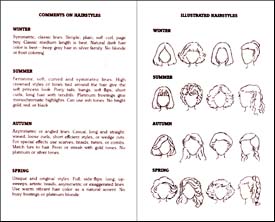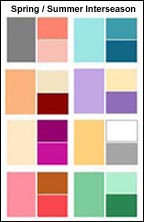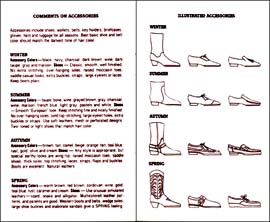 Men


IMPORTANT KEYSIZE TESTER $30`
The KEYSIZE TESTER indicates if a person wears a small, medium small, medium, medium large or large inside lines. The "key" size is based on the size and shape of a person's face features and applies to everything from head to toe: size of curls, glass frames, collars, patterns, buttons, bows, straps, pleats, cuffs, buckles, belts, purses, jewelry, watches, bands, rings, bracelets, flaps, ruffles, trims, barrettes, hats, and textures. Important because it is based on the size, shape and space of face features. Includes 20 TESTERS of basic patterns in sturdy heavy card stock with cut-out neck for easy use.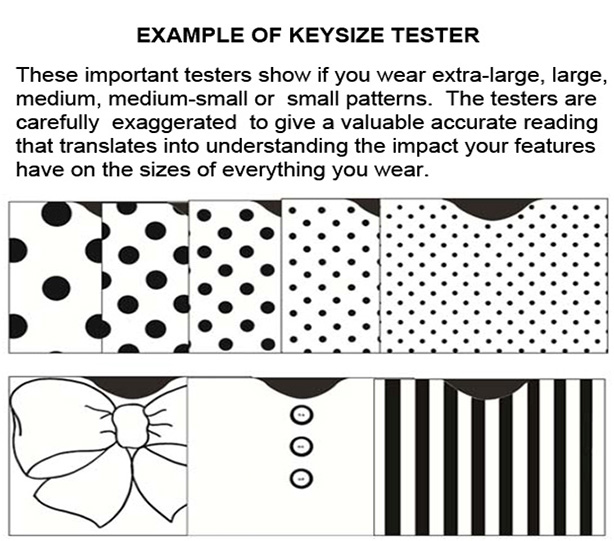 COLOR DISPLAY CHART $12
Important tool to see exactly where you are as you test through the colors. Also validates your work
as you recognize the mathematical relationship to a person's best colors in all the color families. 11X8.5"
Lip & Cheek Colors; Accent Colors and Neutral Colors are grouped following sequence of testers. Laminatied.
HAIR AND EYE COLOR DISPLAY CHART $12

This inovative hair and eye color display chart has been designed in harmonic sequence to help see where one fits into
the scheme of things and the order and beauty of human coloring. A vital tool for beauticians and those working
with hair coloring—used in conjuction with the Color Tester guarantees best results possible. Laminated 11X8.5"

COMPLETE DO-IT-YOURSELF COLOR ANALYSIS TOOLS AND MATERIALS PACKAGE
$147 for Complete Set ~ Materials and Tools for finely-tuned body, face, and color analysis.
Includes:
Color-Tester
Important Keysize Tester
4 Pocket size Personal Profile Booklets
8 Fully Color Illustrated Inter-season Booklets for Women and Men
Color Display Chart
Hair and Eye Color Display Chart
Instructions for Fine-Tuning Body and Color Analysis Included
To OrderTraining Materials Please Email: [email protected] or call 925-351-3316
For those wanting indepth training, Certification offers a fine-tuning session with Irenee

When your studies are nearing completion, you will need to fine-tune yourself to clearly understand your own colors and lines. This will be used as your "benchmark" for helping others. The on-line/telephone session with Irenee normally takes two hours.

Next, you will want to complete the 7 page Examination with one finish-up follow through session. Consciously you will find your awareness unfolding. Every trained colorist "gets it" and are forever empowered. After all, these principles encompassThe Universal Language of Color and Line.
Example of Certification Examination
| | |
| --- | --- |
| To become a Certified Color, Body and Line Professional Educator, you may study the 90 hour course developed for the Academy Of Art in San Francisco and for colorists throughout the country. Everything is covered in The Science of Personal Dress Complete Study. The Certification Examination and study guide is provided here and many individuals find that to seriously accomplish its completion is extremely rewarding. This in-depth teaching lays the foundation for understanding all aspects of personal dress and applies to all art fields of endeavor. | |
THE SCIENCE OF PERSONAL DRESS CERTIFICATION is valuable because it defines the knowledge of the color and line educator based on scientific order which is verified through this examination. The questions follow the order of the Science of Personal Dress Complete Study so that you can easily study and absorb the material.
(Wouldn't it be fun to really know these answers?)
EXAMPLE OF 8 PAGE EXAM QUESTIONS:
1. Which color has the highest vibration? _______________
2. Which color has the lowest vibration? _______________
3. What portion of the electromagnetic scale are we able to see?___________
4. T/F Only in the presence of light do we see color. _________
5. T/F The color that is not absorbed is the color we see. _________
6. What 3 forms does color express through? ________ ________ ________
7. Name the 3 primary colors of light. __________ __________ ___________
13. Luminosity means that a color is __________________.
14. In the context of personal colors, a person's neutral color is considered to be his/her __________________ color.
15. Harmony = ______________.
16. What colors of the spectrum are most associated with comedy in the theater? 20. What spectrum color is the brightest? _____________
21. Which color is the most energetic? _____________
22. Which color is least flattering to most skintones?__________________
23. Which color is ambivalent and is at the midpoint of the spectrum? ____________
24. Name the color associated with high rank and royalty. ______________
25. Which color is fundamentally beneficial? _____________
67. Name the two kinds of ruddy skintones. ______________ _______________
68. What color best cools off ruddy skintones? ________________
69. T/F Lack of pigmentation in the skin causes the skin to be very dark. _________
70. Name the six major ways a color can be changed:
75. Name several warm icys. _______________________________________
76. Name several cool icys. ________________________________________
77. Which red in the red family is moderate enough to be worn by most people? ______________
80. Why do people with warm orangey skintones look good in blue? _________________________
81. Which of the purple colors "doubles" for an Autumn blue? _______________________________
82. What are the best colors to coordinate with yellow? _____________________________________
83. what can be worn with rust to cool it down? ____________________________________________
128. What symbol is associated with "childish"? ___________
129. What lines do dimples suggest? ________________
130. What overall form is best to achieve when designing a person's hairstyle? ________________________
131. What height begins to communicate regal lines for women? _____________
141. Could pushed-up sleeves on a sweater give a feminine, masculine and exaggerated feeling? _____
142. T/F Dull colors are boring. _________
143. Why are thick, untreated leathers more masculine? _________________________________
144. How can you change a color to make it feel and communicate poise and authority?
___________________________________
145. Which is more feminine, lace or rhinestones? ________________________
161. What gender is a tweed skirt? ________________
162. T/F A lack of proportion gives the off-beat note for trendy fashions. ______
163. T/F If an item of clothing you are wearing doesn't feel right, it is probably because you are self-conscious. _____
164. T/F When a thing is in perfect balance it becomes a classic - even a dramatic costume can become a classic. _____

SMALL EXAMPLE:
In front of the following list of dress items, draw the symbol which most represents what the feeling of the item is communicating.
| | | | |
| --- | --- | --- | --- |
| EXAGGERATED | FEMININE | MASCULINE | BALANCED |

pointed shoes
ruffles
suspenders
round necklines
pin tucking
medium length hair
tiny polka dots
ex. large polka dots
ex. large checks
tiny checks
checks
applique
belt loops
no buttons
pleats
rhinestones
bell bottom pants
gathers
sweaters
T straps
fringe
patch pockets
bone buttons
ballerina shoes
natural weaves
moccasins
laces
terry cloth
gauze
thin straps
puff sleeves


wooden buttons
pearls
scallops
cross stitching
shirring
paisley patterns
large shoulder pads
curly hair
low heels
high heels
wedge heels
contrast piping
extra large buttons
bows
high waistlines
low waistlines
ribbons
dotted swiss
top stitching
tapered shirts
hidden pockets
petrified stones
brassy gold
boots
short skirts
mandarin collars
eyelet holes
velvet
cable stitch
tennis shoes
lace edging

page-boy haircuts
diamond shapes
belts
plaid patterns
side ties
cuffs
star shapes
sleeveless dresses
beading
2-piece outfits
center hair parts
long fingernails
fancy straps
round pockets
rubber soles
low necklines
delicate rings
buckles
peddle pushers
natural leather
self buttons"
diamonds
western boots
crewel embroidery
colored buttonholes
pants
long dresses
double breasted
wedge hairstyles
leather jackets
boat necklines
CONTACT IRENEE AT [email protected]
Copyright © 2021 By Irenee Riter All Rights Reserved